When Ikea first came to the Bay Area I was skeptical. It was a store full of what appeared to be thin white furniture made of plywood and a bunch of plasticware. It definitely fit into the college or post-college budget so I understood why it was so popular. Today, Ikea still has the same love for basics and organization that it once did but it is now so much more.
The biggest change I have found is in the quality. I don't think any flimsy furniture could be found there if you tried. In fact, the newer rant on Ikea, according to my teens is, how complicated it is to put their furniture together. We tested this not too long ago with the ever popular Hemnes dresser. It holds true. If you don't have 8 hours to kill with your kids (who knows how many hours if solo) opt for the assembly option. But, in my opinion, with long assembly comes quality so I was satisfied.
What I love most about Ikea is the cleverness in kitchen design.
What I enjoy the most is the ongoing and increasing cleverness of kitchen design. Their showroom never lets me down, it is filled with the most amazing ideas. And their in-store design help proved great for a quick kitchen update my client did prior to selling their home.
I love to check out Ikea's showroom every so often for inspiration. What I always walk away with is an awe of how crafty they are when it comes to storage and use of space. Ikea fits perfectly with 'tiny homes' increasing in popularity and a lifestyle of moderation gaining on excessive living.
Ikea's use of space is mind blowing. I am amazed at the ideas they come up with to maximize the functionality of any room in your house, both inside cabinets and outside of them. And it all looks really nice.
It's a big win in my mind that Ikea doesn't leave you looking for the right accessory to organize the dresser or cabinet you just purchased from them. They've already designed them and offer them for sale right there by the larger product.
Remodel at a more affordable price
What could be better than a one stop shop for a full kitchen remodel within whatever budget you have set. As much as we would all love to have the resources to walk into a design store in a lovely downtown location, it is simply not a practical or affordable path for the majority of consumers.
Get customization with a small extra step
There is a company called Semihandmade that has piggy-backed on Ikea's design simplicity and talents and embraced the Ikea popularity by building cabinet doors made to fit with Ikea cabinets. These cabinet doors offer an upgrade to Ikea's doors and create a win-win. The main difference between their doors and Ikea's is the thickness. With manageable pricing of cabinets plus clever kitchen design combined with higher quality cabinet doors to last you can now have it all. And when you're ready for a new look you can easily give your kitchen a facelift.
If you're like me, you're reluctant to change your cabinets because it is a large undertaking and commitment to a room you spend most of your time in. With Semihandmade, you can have new cabinets with the confidence of being able to change the color or look with ease down the road. I love the look of darker painted doors on the lower cabinets and white on top. My fear has been what if I decide I don't like the dark anymore. With Semihandmade, I can finally begin my kitchen remodel, and not fret about inadvertently going trendy.
So who has actually seen how they hold up over the years?
As much as I love the Ikea showroom I have still been skeptical. Ikea wasn't exactly known for quality years ago and that has stuck with many of us Gen-Xers. I have had clients put in Ikea kitchens for resale and love them for the short time they used them. But at the back of my mind was always the question, "How will they be in 10 years?"
For first-hand reviews of Ikea kitchens I did what anyone would do and turned to the Internet. The most informative review I found was by DIY-er Jeff on his site The Homestud. If you're considering remodeling anything with Ikea cabinets his article is definitely worth a read.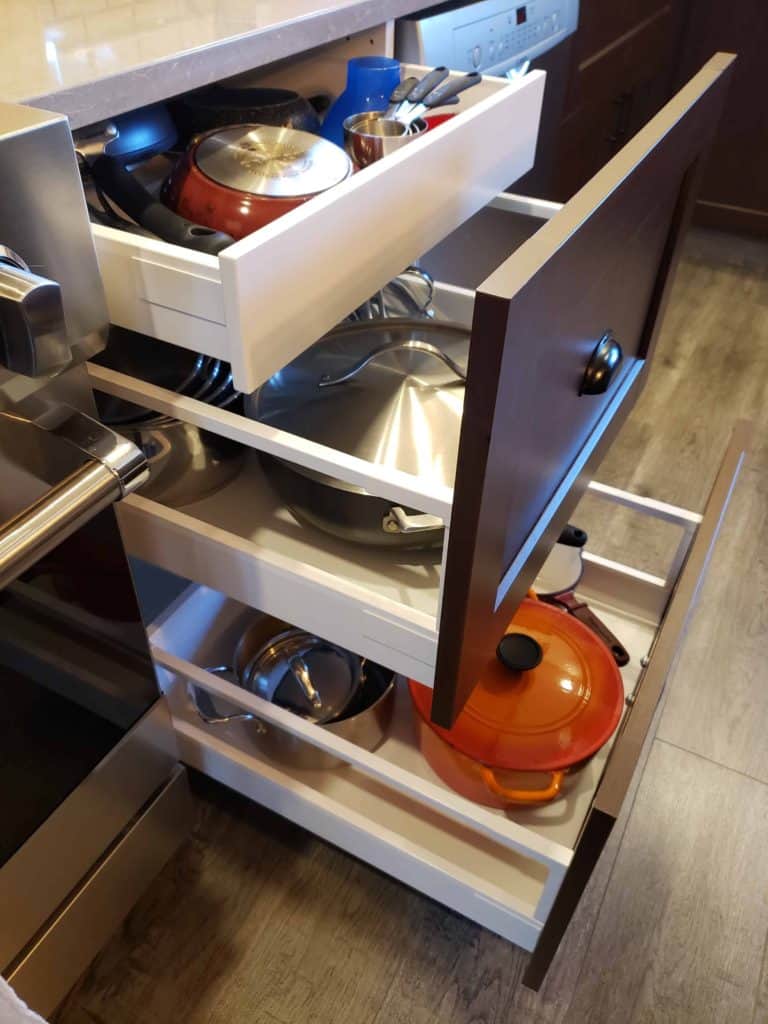 If you have found other sources for great information or even have ideas to share on cabinets please do. I welcome all input, especially now, before we break ground on our little remodel here at home in sunny Los Gatos, CA.